Cloquet Skaters Lobby for Park
Skateboarders Seeking New Site Form Non-Profit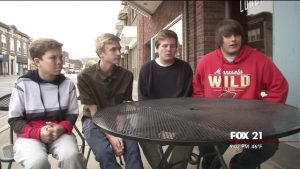 CLOQUET, Minn. – A group of teenagers in Cloquet have begun lobbying the City in an attempt to get a new skate park built in their town.
The group has even formed a non-profit organization called the Cloquet Skate Park Association.
The young skaters are seeking a permanent concrete skate park, after a previous skate park was removed.
Cloquet City Adimistrator Brian Fritsinger said Cloquet built a skate park in the late 1990's that stood for more than a decade before problems with vandalism and misuse caused the city to remove it.
That's a problem for the cities younger skaters, who say there's nowhere for them to take their favorite activities.
14 year old skater Riley Into said he and his friends try to skate in public areas, but nearby businesses don't want them around.
Riley and his friends' efforts to get a skate park in Cloquet have spurred them to  hold fundraisers and take part in community service endeavors. 
The group even has an adopt-a-highway cleanup project.
The group's efforts add credibility to  15 year old Brady Doran's belief that the new generation of Cloquet skaters will not make the same mistakes previous groups did.
Doran said he believes the park would police itself.
The city, isn't opposed to the idea of a skate park, but they believe the proper location has to be found before the facility can be built.