Northland Woman Sells Products to Keep You Warm
Solutions for those who enjoy outdoor activities in the winter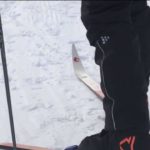 DULUTH, Minn. – One Northland woman is very busy selling two products that are proven to keep you warmer in these cold winter months.
Eve Graves stumbled upon two products when she was trying to solve her own problems with the winter temperatures.
As an outdoor winter enthusiast, Grave struggled to stay warm while doing her favorite activities but now, she uses Warm Skin Lotion and Lung Plus to stay warm.
Warm Skin is a lotion that acts as a barrier to the cold. It protects from frostbite and your favorite football players might even be using it.
Graves said, "Its what the NFL players use on their exposed skin during the games and the Packers ordered a bunch for Sundays game and we don't think the Giants have."
Whether you're a Packers fan or not, Grave says Warm Skin works.
The other product is Lung Plus. It's a mouth humidifier and heater.
Lung Plus will send heat through your entire body starting from your lungs and anyone can use it.
Lung Plus is $50.
It's available for purchase at www.lungplususa.com, lungplususa@gmail.com, and at Tortoise and Hare Footwear in West Duluth.