Bad River Denies Enbridge Line 5 Grant Easement
Asking Removal of Pipeline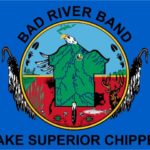 ODANAH, Wis.- The Bad River Tribal Council passed a formal resolution Wednesday that established the Tribe's decision not to renew its interests in the grant of easement for rights-of-way of Enbridge Energy's Line 5 crude oil pipeline through the Bad River Reservation.
The decision also calls for the decommissioning, and removal of the pipeline from all Bad River lands and watershed.
"As many other communities have experienced, even a minor spill could prove to be disastrous for our people," said aid Bad River Tribal Chairman Robert Blanchard in a prepared statement. "We depend upon everything that the Creator put here before us to live. … We will work with our Native and non-native communities to make sure that Line 5 does not threaten the rights of people living in our region, and we will reach out to federal, state and local officials to evaluate how to remove Line 5, and we will work with the same communities and officials to continue developing a sustainable economy that doesn't marginalize indigenous people."
Enbridge was surprised by the turn of events.
"We are surprised to learn of the Bad River Band's decision not to renew individual easements within the reservation for Line 5 after negotiating in good faith for the past several years," said Enbridge in a prepared statement. "Enbridge and the Bad River Band of Lake Superior Chippewa have been discussing the easement renewal since before the agreements expired in 2013. Enbridge has responded to Band's requests for information and negotiated in good faith for the past three and a half years. In addition to working toward a mutually beneficial agreement, Enbridge also worked with the Band's cultural resources, natural resources, and legal departmental staff to maintain safe pipeline operations within the boundaries of the Reservation."
To find out more about the decision, watch Fox 21 at 5:30 and 9 p.m. tonight.