Staying Safe in Extreme, Cold Temperatures
Active Adventures: Gearing Up for Winter Weather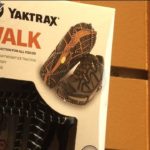 DULUTH, Minn. – For this week's Active Adventures we focused on the extreme cold the Northland is experiencing.
FOX 21's William Seay went to Trail Fitters to talk with Assistant Manager Biagio Nigrelli.
Nigrelli says it's important to layer in these conditions and always be prepared to go outside.
Nigrelli suggested wearing long underwear, proper boots for the occasion, buff headwear and ice traction cleats on your shoes.
Of course, an appropriate jacket, gloves and mittens are necessary.
Trail Fitters is located in the Fitgers Complex at 600 E Superior St, Duluth, MN 55802.
You can learn more about the store at trailfitters.com.