Glensheen Looks to Keep High Tour Numbers in 2017
Moonlight Showshoe Events Held Wednesdays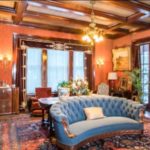 DULUTH, Minn. – A Duluth landmark is seeing a record number of visitors.
In 2015, Glensheen Mansion had the highest tour numbers the estate had experienced since the 1980s.
According to Marketing Manager Jane Pederson, in 2016 the numbers were more than 20,000 higher than in 2015.
Glensheen has started hosting events on Wednesday nights, with a different theme each month.
Pederson says this is a way for visitors and tourists to see and enjoy the mansion in a new light.
This month, January, they are hosting moonlight snowshoe events each Wednesday at 6:30 p.m.
Many new tours have also started in the last couple years.
For more information on the historic estate head to glensheen.org.