Governor Walker Delivers 2017 State of the State Address
Joined by First Lady Tonette Walker, in addressing joint session, people of Wisconsin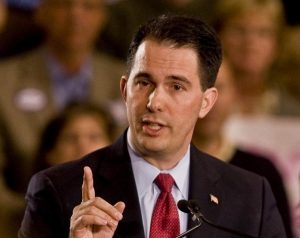 MADISON – Governor Scott Walker delivered his 2017 State of the State Address at the Wisconsin State Capital, today, January 10, 2017.
One of his many topics included jobs creation and a drop in the unemployment rate. He noted "during the four years before we took office, Wisconsin had lost more than 133,000 jobs and the unemployment rate peaked at 9.2%." The unemployment rate is down 4.1%.
"Our biggest challenge is not creating jobs, but finding people to fill them. We went from a focus on 'jobs, jobs, jobs' to talking about 'workforce, workforce, workforce.' This is my priority for 2017 and beyond," Walker stated.
Other focuses included renewing an increase in funding public education, investing $35 million into a broadband infrastructure, and increased focus on road work. Walker plans to spend around 25 percent more in the coming year.
First Lady Tonette Walker also delivered remarks regarding one of her initiatives, Fostering Futures, which focuses on trauma-informed care.