Rusty Patched Bumblebee Declared Endangered
The first time any bee species has made the endangered list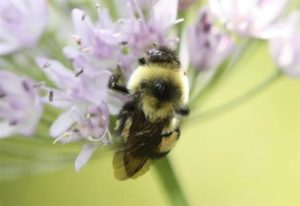 TRAVERSE CITY, Mich. (AP) – For the first time, federal regulators are designating a bee species in the continental United States as endangered after suffering a dramatic population decline over the past 20 years, federal officials said Tuesday.
The U.S. Fish and Wildlife Service told The Associated Press the rusty patched bumblebee is on the verge of extinction, and are working to develop a recovery plan encouraging people to provide more habitat and reduce pesticide usage.
Many of the steps needed to rescue the rusty patched bumblebee might also help other struggling bee species and monarch butterflies, which pollinate a wide variety of plants, including cultivated fruits and vegetables, officials said.
Notable for the the rust-colored marking on its back section, the rusty patched bumblebee was once common in the East and Upper Midwest, but its numbers have fallen sharply since the late 1990s. Only a scattered population remains in 13 states and one Canadian province.
The rusty patched is among many types of bees that are in decline around the world, and scientists say causes for the population drop may include diseases, pesticide exposure, habitat loss, and climate change.
Bumblebees provide a service worth billions of dollars a year by pollinating wildflowers, as well as fruit and vegetable crops.