Duck Confit Salad with Ledge Rock Grille
Cooking Connection: Larsmont Cottages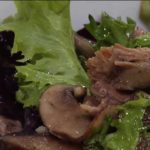 TWO HARBORS, Minn. – For this week's Cooking Connection, we worked with Chef Alex from the Ledge Rock Grille at Larsmont Cottages.
Chef Alex showed FOX 21's William Seay how to make duck confit salad.
Ledge Rock Grille is located within Larsmont Cottages at 596 Larsmont Way, Two Harbors, MN, 55616.
They can be reached by phone at 218-595-7510.
You can learn more at larsmontcottages.com.