Two Arrested Following Discovery of Meth Lab on Iron Range
Lab Poses No Danger to Public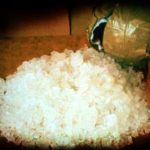 CHISHOLM – Wednesday around 5:20 p.m. the Chisholm Police Department reported to a suspicious activity call on the 500 block of 4th St. NW.
The investigation soon lead to the address of 511 4th St. NW where officers discovered what appeared to be a clandestine laboratory in a camper trailer on the property.
A search warrant confirmed the existence of a lab believed to be for the manufacturing of methamphetamine was confirmed.
The community was not in danger at anytime during the investigation.
Fire and EMS were called to the scene as precautionary protocol.
A 45-year-old female and 26-year-old male, both of Chisholm, are in custody waiting formal charges.
FOX 21 will name the suspects once they've been formally charged.