Winter Fun on the Snowy Trails
Active Adventures: The Duluth Experience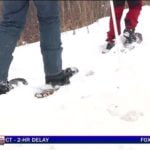 DULUTH, Minn. – For this week's Active Adventures FOX 21 hit the snowy trails with The Duluth Experience.
Dave Grandmaison, Co-Owner and CEO, took FOX 21's William Seay snowshoeing for the first time.
Grandmaison says they have tours for every season, including snowshoeing, fat tire biking, brewery tours, mountain biking tours and more.
For more information on The Duluth Experience and their tours head to theduluthexperience.com.