Beating Cabin Fever with a Disco Party
Coffee Conversation: Renegade Theater Season Kick-off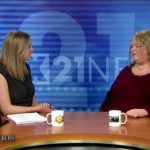 DULUTH, Minn. – This weekend Northlanders can beat their cabin fever by dancing at Zeitgeist Arts.
Renegade Theater is celebrating the season kick-off with a disco dance party.
Proceeds from this event support the theater company.
The fun gets underway at 8:00 p.m. with dancing starting up at 9:30 p.m.
Before the dance, there will be a fire, cookies, board games and sing-a-longs.
Saturday Night Cabin Fever Dance Party will be DJ'd by Dan and Christine Stocke, and co-sponsored by Bent Paddle Brewing Co.
Tickets are $10.
For more information head to www.teatrozuccone.com.