Youth Poets Given Stage to Tell Stories
2017 Be Heard MN Youth Poetry Slam Series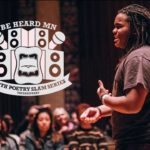 DULUTH, Minn. – Youth throughout Minnesota are sharing their stories through a slam poetry series.
Be Heard MN is giving the young artists a platform.
This is through TruArtSpeaks as the poets compete with other teens across the country.
Through eight poetry slam events, six youth poets will be chosen to compete in San Francisco this summer.
This weekend, on Saturday, January 21, youth poets will perform at AICHO in Trepanier Hall in Duluth.
This is located at 202 W. 2nd St., Duluth, MN 55802.
Everything gets underway at 7:00 p.m. and is open to the public.
For more information head to truartspeaks.org.