Medical History on Display at Karpeles Manuscript Museum
Display to be shown through April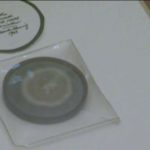 DULUTH, Minn. – Throughout history medical discoveries have changed the lives of thousands.
For the next few months, some of these medical miracles will be on display at the Karpeles Manuscript Museum in Duluth.
"This diskette was assembled by Alexander Fleming," said Museum Director Doris Mulkmus, "this is one of only five disks from his original 1928 experiments."
The diskette Mulkmus is referencing shows penicillin killing staph aureus.
It's things like this that are shown at the museums, educating about what was once thought impossible.
"Things from Francis Crick who discovered DNA, we have things from Barnard, Christiaan who was the first person to do open heart surgery." said Mulkmus.
Mulkmus says the exhibit is a glimpse into the past showing documents from the world's trailblazers, "some people will enjoy seeing the original signature of Benjamin Franklin and Theodore Roosevelt."
There's even a letter on display from Dorothea Dix as she fights for the humane treatment of mental health patients.
"This is just one of the early examples of medicine trying to intervene for humanity," explains Mulkmus.
Mulkmus tell FOX 21 the fact that visitors can actually see the papers documenting these discoveries helps the past sink in for Northlanders.
"Something like this will perk your interest and it'll engage you in a way that makes history more real," said Mulkmus.
She tells us that was the goal of the museums founder.
"What Dr. Karpeles was hoping is that this would be a doorway for students, for adults to learn more about history and appreciation of human accomplishment," Mulkmus said.
The exhibit is open through April.
The Karpeles Manuscript Museum is located at 902 E 1st St, Duluth, MN 55805.
For more information you can head to duluthkarpelesmuseum.org, or call (218) 728-0630.