Motley House Fire Results in Fatality
Cause of Fire Still Unknown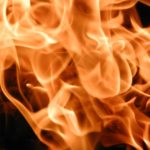 MOTLEY, Minn. – A 20-year-old Motley man is dead following a fire in a home.
On Friday, January 13, the Cass County Sheriff's Office responded to a report of a house fire on the 12000 block of State 64 around 6:42 a.m.
First responders arrived and found a trailer house fully engulfed in fire.
Efforts to extinguish the fire were immediately underway.
An adult male was located deceased inside the residence.
Cass County Sheriff Tom Burch reports the victim has been identified as Alan Dumpprope, 20, of Motley MN.
The initial investigation reveals the victim died of smoke inhalation.
The investigation into the cause of the fire is continuing.
Assisting at the scene was the Motley Fire & Rescue, Staples Fire and Staples Ambulance and the State Fire Marshals Office.