Fixing a Quick and Healthy Meal with Pita Pit
Cooking Connection: Pita Pit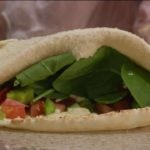 DULUTH, Minn. – Did you make a New Year's resolution to eat healthy? If so, you can pick up a quick lunch and not break your resolution at the same time.
Pita Pit worked with FOX 21 for this week's Cooking Connection.
Pita Pit employee Erica Koski showed FOX 21's William Seay how to make a veggie and hummus pita.
The eatery offers pitas on the go, to eat at the establishment and also does catering.
Pita Pit is located in the new Maurices building at 425 West Superior Street, Duluth, MN 55802.
You can reach them at (218) 461-0080, or follow them on Facebook.