Ice Racing Comes to Duluth
Local Pro Talks Thrilling Sport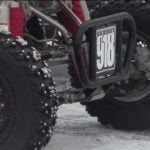 DULUTH, Minn. – An extreme ice sport is coming to Duluth!
The World Championship ICE Racing Series will be at AMSOIL Arena on Friday, January 20.
There will be motorcycles and ATVs racing across the ice on studded tires.
The competition kicks off at 7:30 p.m.
For more information head to www.icespeedway.com.