Snowboarding on the Hills of Spirit Mountain
Active Adventures: Winter Sports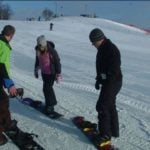 DULUTH, Minn. – Winter has arrived and the hills are ready for athletes at Spirit Mountain.
For this week's Active Adventures, FOX 21's William Seay and Natalie Froistad learned to snowboard.
Snowboard instructor Charlie Barette showed William and Natalie the basics.
They practiced a j-turn and a c-turn.
To sign up for a lesson, or learn more information, head to spiritmt.com.
The ski hill can also be reached at 218-628-2891.
Spirit Mountain is located at 9500 Spirit Mountain Place, Duluth, MN 55810.