Mayo Clinic: Dayton's Fall Unrelated to Cancer Diagnosis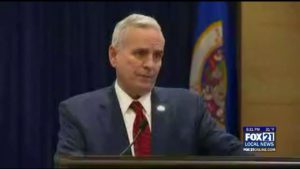 ST. PAUL (AP) – The Mayo Clinic says Minnesota Governor Mark Dayton's fall during his State of the State address was not related to his prostate cancer diagnosis.
In a statement Tuesday evening, Mayo Clinic spokesman Karl Oestreich says doctors believe Dayton's fainting spell "was situational and related to standing for a long time while giving his speech and possible dehydration." The 69-year-old was encouraged to stay hydrated.
Oestreich also says the governor learned about the cancer during his annual physical exam, and a biopsy last week confirmed the diagnosis.
Dayton will meet with Mayo Clinic doctors next week to discuss treatment options.