Teachers of the Year Nominated
Four From Area Nominated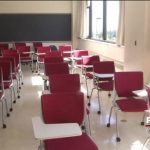 DULUTH, Minn.-Four local teachers have been nominated for Minnesota's Teacher of the Year.
Annette Petersmyer, and Sheila Shusterich of Duluth, along with Kristen Kilpo of Proctor and Jeanne Bymark of Hibbing have all been honored as nominees.
The winner will be announced May 7 at the Radisson by the Mall of America.