Becoming a Mascot at UMD
Active Adventures: Champ the Bulldog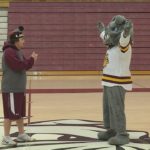 DULUTH, Minn. – Champ the Bulldog is a staple at University of Minnesota Duluth athletic events and community gatherings.
This week, FOX 21 got the chance to gear up with Champ.
UMD Senior, Taylor Korum, is the lead Champ and has been a mascot at the university for five years.
Korum is graduating this year and tells FOX 21 he's going to miss the job.
This weekend Champ will be at the Northstar College Cup in St. Paul this weekend as the UMD Men's Hockey Team takes on the University of Minnesota Twin Cities Gophers.