Panel of Women Leaders Share Advice
Women in Leadership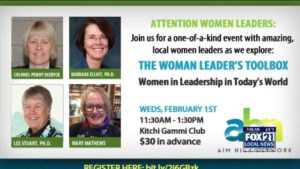 DULUTH, Minn. – This week Northland women are getting together to lift one another up and share advice for a successful career.
Aim High Network is assembling a panel of achievers to discuss success.
The Women in Leadership event is Wednesday, February 1 at 11:30 a.m. at the Kitchi Gammi Club.
The panel will be sharing their experiences, philosophies, advice and tools for professional success.
Panelists will be:
Retired Col. Penny Dieryck, of the U.S. Air Force Reserve's 148th Fighter Wing, the 2016 Minnesota Woman Veteran of the Year
Barbara Elliot, an Episcopal priest and a professor of bio-behavioral health and population sciences at the University of Minnesota Duluth
Lee Stuart, executive director of CHUM in Duluth
Mary Mathews, CEO of Mathews & Co. and a co-founder Aim High Network
Tickets cost $30 and are sold in advance only. For more information or to register, please go to aimhighnetwork.org.