Firing of Sally Yates Raises Questions About Tolerance of Dissent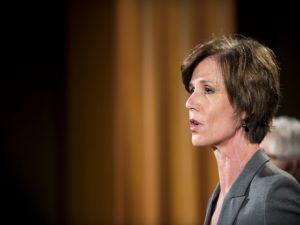 WASHINGTON (AP) – President Donald Trump's abrupt, late-night firing of the acting attorney general sends a message to his future Cabinet about his tolerance for public dissent.
Trump fired Sally Yates after she refused to let the Justice Department defend his immigration orders in court.
The president will soon have in place appointees who will be less likely to publicly disagree with him. But his swift firing of an Obama hold over, also shows how he moves aggressively to ensure his directives are carried out, even at agencies like the Justice Department that cherish their independence.
Bill Baer, a Justice official during the Obama administration, says it's worrisome that Trump views the department as a weapon to go after opponents.
Trump spokesman Sean Spicer says the department's job is to execute president's orders.