History of The Duluth Area Chamber of Commerce
Northland Uncovered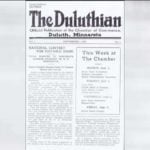 DULUTH, Minn. – Downtown Duluth is bustling with growing businesses moving into the Zenith City.
The Duluth Area Chamber of Commerce played a role in that as they were founded the same year the city was incorporated.
"We started in the core of downtown when there were very few buildings in the entire city," said David Ross, President and CEO of the Duluth Area Chamber of Commerce.
The chamber's mission is to serve more than 1,000 members and keep business thriving in the city.
It all started with a problem well-known today, finding a place to park, but in the late 1800s the space needed wasn't for cars.
"Where the horse posts, where people could park their horses at that time," said Ross.
Finding stories like this has been a rough road for the chamber.
In 1889, the Grand Opera House, which the chamber called home, burned down.
The flames destroyed a lot of the chamber's history.
Records from the Duluth Public Library have helped fill the gaps.
"So we've had to piecemeal place together all these different historical facts from all different resources," said Ross.
The documents show the chamber has stuck with its mission through the good times and bad.
"Our population peaked in 1950, 1960," said Ross.
Duluth was once home to more than 100,000 Minnesotans and now the city is at 86,000.
"After the World War II, we were building ships, manufacturing was huge, and we rode that boom and after that came the 1970s and 80s where unemployment was 16 percent and Duluth really struggled mightily," said Ross.
Duluth lost 20,000 residents and began to look at other industries to keep the city supported.
"The community leaders got together and decided what our strengths are. One, is this beautiful lake, this treasure, the greatest of the Great Lakes," said Ross.
After this, the tourism industry was born.
Another thing changing with the times was the amount of young people making Duluth their home.
"There has been no better time to be your age, to be 20–something, 30–something in Duluth," said Ross.
Duluth boasts more employment than the state and national average.
"People of the 20–something, 30–something age, this is the perfect spot. Bright future," Ross continued.
Ross tells FOX 21 the Duluth Area Chamber of Commerce will always be around supporting businesses.
"Through all the highs and the lows that have occurred, all the booms and all the busts it has stayed with the community and we're proud of the fact that it's a continuous service," said Ross.
If you'd like to know more about the chamber, head to duluthchamber.com.