Minnesota Man Airlifted to Twin Cities After Snowmobile Crash
Authorities Urge Responsible Snowmobile Driving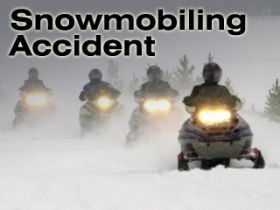 The St. Louis County Sheriff's Office is urging safe and responsible driving while operating any motorized vehicle after a Minnesota man crashed his ATV.
On January 30, 2017 around 1:40 p.m., the St. Louis County Sheriff's Office, along with members from the International Falls Ambulance Service, Kabetogama Fire and First Responders, St. Louis County Rescue Squad, and Voyageur National Park Service responded to a snowmobile accident with injuries on the Voyageur Snowmobile Trail.
The accident occurred between Ash River and Crane Lake near Little Johnson Lake in Unorganized Township 68-18.
David Cady, 55, of Buffalo, MN, along several others were riding the snowmobile trail between Ash River and Crane Lake when he lost control on a curve and struck a tree.
Cady was transported by ambulance with non-life threatening injuries to the International Falls Hospital where he was then airlifted to a hospital in the Twin Cities.
Authorities say recent weather conditions have made trails and lakes extremely icy.