President Trump Nominates Judge Neil Gorsuch for Associate Justice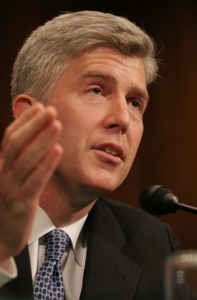 WASHINGTON (AP) – President Donald Trump has nominated 10th Circuit Court Judge Neil Gorsuch for associate justice of the Supreme Court.
Gorsuch, 49, has served on the 10th U.S. Circuit Court of Appeals in Denver since 2006, after being appointed by President George W. Bush. He once worked at the Supreme Court as a law clerk.
If approved by the Senate, Gorsuch would take the seat left vacant since the death of Justice Antonin Scalia last year. Republicans refused to consider President Barack Obama's nominee for the seat, saying the choice should go to Obama's successor.
He would be the youngest justice since Clarence Thomas joined the court in 1991 at age 43.
Trump made the announcement Tuesday in a prime-time address from the White House.