Local Bakery Offers Specialized Baked Goods for Holidays
Cooking Connection: Johnson's Bakery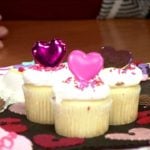 DULUTH, Minn. – A romantic holiday is just around the corner and a local bakery is preparing.
Johnson's Bakery is offering cookies, cakes, mini cakes, cookie cakes and cupcakes for Valentine's Day.
Lakeside Branch Manager Megan Spitzley suggests ordering early so customers don't miss out on what they want.
The bakery will also be making football cookies for the Super Bowl, along with their other daily specials.
In Lakeside, you can find Johnson's Bakery at 4509 E Superior St, Duluth, MN. Their number is (218) 525-9988.
Johnson's Bakery in Lincoln Park is located at 2230 W 3rd St, Duluth, MN. Their number is (218) 727-1889.
For more on the family owned business, head to johnsonsbakery.com.