Community Forum Fights Poverty
Ending Economic Inequality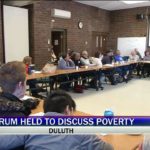 DULUTH, Minn. – Community leaders held a round table discussion on the issues surrounding poverty in the Northland and throughout the world.
The discussion was centered around the ways economic inequality can be addressed and how new economic initiatives might help in the fight to end poverty.
The discussion was put on by Basic Income Guaranteed Minnesota, an organization that is pushing for a basic income for all people.
"Poverty is wrong. There is no reason why we should have poverty. This is our belief, and I think all the people in the basic income movement would agree that we just want everyone to lead a life of dignity. I think everyone is deserving of a life of dignity. We, as humanity can afford that. There is no reason why anyone should be poor," said Liani Gale, the event organizer.
The event included a panel discussion by advocated for the basic income initiatives around the world.