Local Authors Featured at Barnes and Noble
Good Reads for Cold Weather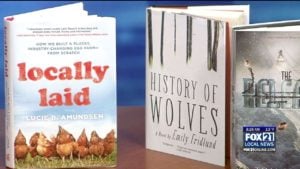 DULUTH, Minn. – Local authors were featured in this week's Coffee Conversation.
Shari Illig, Community Business Development Manager for Barnes & Noble, brought in four books to feature.
The first is "Locally Laid" by, Lucie B. Amundsen. This book has been chosen as the One Book Northland for the community read. It's coming out in paperback on February 28.
Illig describes it as educational and funny.
To order this book, click here.
The second book Illig recommends is "History of Wolves" by, Emily Fridlund.
Fridlund is a native of Minnesota, but has now moved to the West Coast.
The books tells the story of a 14-year-old girl who lives with her parents in northern Minnesota in a commune.
To order, click here.
The third book is "The Release" by Tom Isbell. This is the third book in his "Prey" series.
This is a thrilling and suspenseful young adult fiction book.
To order this book, click here.
The final book Illig recommends is "Small Great Things" by, Jodi Picoult.
This book focuses on race relations and is said to cause the reader to questions what they know about privilege, power, and race.
To order this book, click here.
For more information on these books, and everything offered at Barnes and Noble, head to barnesandnoble.com.