Police Investigate I-35 Shooting in Duluth
The incident was the second shooting to take place over the weekend, and the fifth shooting since the 1st of the year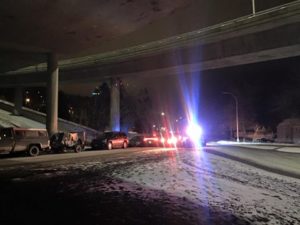 DULUTH, Minn. – New details have emerged in the shooting that took place Sunday evening in Duluth
Just before 8 p.m., on Sunday, the Duluth Police Department responded to a local hospital after receiving information of a 19-year-old male victim being admitted with an apparent gunshot wound.
Duluth Police Investigators determined the shooting took place from one moving vehicle into another. A suspect vehicle followed the victim from downtown Duluth onto I-35.
Shots were fired from the suspect's vehicle toward the victim's striking a 19-year-old passenger. A disabled vehicle, determined to be the suspect's vehicle, was located unoccupied a short distance form the Can of Worms on Highway 53. According to witnesses in the area, they saw individuals running from the vehicle.
The victim's vehicle was located in the area of 27th Avenue West and Michigan Street.
Investigators believe the individuals involved knew each other and a motive is not yet clear. Duluth Police are currently working on following up with multiple leads and have identified persons of interest in this case. At this time, identification of those involved are unable to be provided.
If you have any information regarding this case, you are asked to call the Violent Crimes unit at 218-730-5050 or 911.
This incident remains under investigation at this time and no other information is available.