Clean Water Gala Supports St. Louis River Alliance
Organization Celebrates 21 Years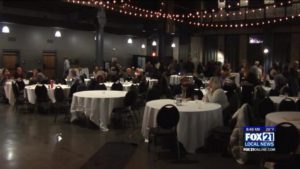 DULUTH, Minn. – This week the St. Louis River Alliance is celebrating 21 years of hard work with their Clean Water Gala.
The event raises money for the St. Louis River Alliance and their efforts in cleaning up the St. Louis River Estuary.
There will be a silent auction featuring a Harbor Cruise on Marine Tech Barge, a River Excursion by the St. Louis River Experience, Whitewater rafting trip from Swiftwater Adventures, local art and live music by Charlie Parr and the Boomchucks.
Drink samples will be provided by Bent Paddle Brewing Company, Castle Danger Brewery, Vikre Distillery, White Winter Winery, Canal Park Brewery, Anahata Herbals.
There will be hors d'oeuvres are being provided by Lake Avenue Restaurant & Bar, the New Scenic Cafe, Northern Waters Smokehaus, The Rambler Food Truck and the Whole Foods Co–op.
The gala is Thursday, February 9th at Clyde Iron Works from 5:300 – 9:00 p.m.
Clyde Iron Works is located at 2920 W Michigan St, Duluth, MN.
Tickets are available now for $35 in advance at www.stlouisriver.org or $40 at the door.