National Fettuccine Alfredo Day
Never Ending Classics at Olive Garden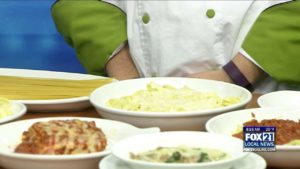 DULUTH, Minn. – Today is National Fettuccine Alfredo Day.
Alfredo Di Lelio created the dish in 1908.
Di Lelio created the dish of noodles, cheese and butter when his wife had no appetite after giving birth to their son.
This morning, Olive Garden visited FOX 21 to chat about all they have to offer on this special day.
Olive Garden makes their Alfredo sauce fresh throughout the day.
Right now, the restaurant is promoting their Never Ending Classics campaign.
Through this offer, guests can try Spaghetti with Meat Sauce, Fettuccine Alfredo, Lasagna Classico, Chicken Alfredo, and Chicken Parmigiana.
Olive Garden is located at 901 Mall Dr., Duluth, MN 55811. You can reach them at (218) 727-2623.
For more information on the restaurant and the Never Ending Classics, head to olivegarden.com.