Dayton Says Prostate Surgery Won't Slow Him Down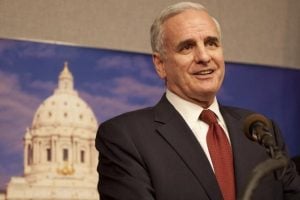 ST. PAUL (AP) – Governor Mark Dayton says he's confident his upcoming prostate cancer surgery won't hinder his remaining two years in office.
The Democratic governor is scheduled to undergo surgery to remove his prostate on March 2. Dayton revealed his diagnosis late last month, a day after collapsing during his State of the State address.
Dayton said Wednesday that his recovery timeline is unclear but his plans to resume his normal schedule within days after an overnight hospitalization the day of his surgery. His doctors say the cancer hasn't spread beyond the prostate and is treatable.
It won't be Dayton's first surgery while in office. He's had several procedures to correct hip and back problems.