Night Out with Chocolate Supports Arc Northland
20th Annual Chocolate After Dark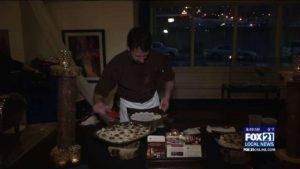 DULUTH, Minn. – Local chefs are getting creative by combining chocolate with courses of a meal.
The 20th Annual Chocolate After Dark event will include chocolate creations from featured local chefs, a silent auction, a wine wall, and a cash bar.
All proceeds from the event go to supporting and expanding Arc Northland's core services.
Here's a preview of what to expect:
185 Chocolate: Decadent Chocolate Samplers
Canal Park Brewing: Chocolate Stout Beer
Essentia Health: Blueberry White Chocolate Risotto Cake topped with lemon scented jicama served on fresh greens and a balsamic reduction
Farley's: Chocolate Redwine Cupcake with Cheesecake Filling
Famous Daves
How Sweet It Is
JJ Astor's: Indulgent Dark Chocolate Filet Mignon Bites with a port wine reduction
Ledge Rock Grille: Dark Chocolate Panna Cotta
Meadowlands Chocolate: Chocolate Sampler Bags
Pita Pit: Falafel Spinach Salad with Chocolate Balsamic Reduction
Splashing Rock
Whole Foods Coop: Italian Chocolate Covered Cherries
Pizza Luce
Positively 3rd Street Bakery: Skidmark Cookies
Vikre Distillery
Tickets are $30 in advance and $40 at the door.
To purchase tickets visit www.arcnorthland.org.
For more information call 218-726-4725.