Proctor Referendum Passes
New Sports Facilities To Be Built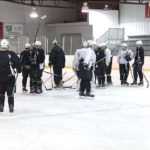 PROCTOR, Minn. – It's good news for the city of Proctor as the referendum to build new sports facilities has passed.
The vote to build a $12 million sports complex passed and will move into construction soon.
Administration, coaches and students were on pins and needles waiting for the results to come in.
"Yesterday was a little bit nerve–wracking. We were excited and as the night drew on and we got the final result, I got phone calls and texts. It's super exciting for us and our kids," said Proctor Superintendent John Engelking.
Coach Dan Stauber found out during his game last night, "Shortly into the first period we got a text saying that the polls were in and that the referendum went through and we are very excited."
It will cost an estimated $12 million to build the new facilities to replace the outdated ones they currently play in.
"The rink, they have done everything they can to Band–Aid this place together but it was definitely time, I'm so happy that our community got together and decided that this needed to get done," said Glen Gilderman, the Head Coach for Proctor and Hermantown Girls Hockey.
The funding would go to building a new hockey arena and a multi-functional artificial turf field would be built for football, baseball softball, soccer and lacrosse.
With facilities like these, they hope kids would want to move in to the area instead of moving out.
"We have had a few players leave to go to other schools, you know facilities are a key part of your whole programming and I think since were adding these fields and arena it will give us a chance to not only keep students here but also possibly entice other ones to move into the area."
One thing they're not going to miss is freezing during hockey practice.
"It's been below zero before you know it been below zero in here before when it's really really cold outside, that's going to be kind of nice."
Although the cold air sometimes played into their advantage.
"The one thing that we'll miss a little bit when we get visiting teams and they're freaked out by the cold."
There will be none of that in the new arena, the sports complex will be something to be proud of.
"I personally think that its going to keep more kids in the area wanting to play give them something to play for give them a nice arena, give them something to be proud of."
Construction will  begin soon.
"We're very excited to get the first shovels in the ground, I'm sure they'll  probably be a little ceremony with gold shovels but were excited to get them in the ground right when frost comes up."
The expected completion of the multi-use football field will be sometime in July and if all goes well the rails will be playing hockey in their new arena come January.