Local Non-Profit Sets Goal to Make Prom More Affordable
If the Dress Fits Collects Used Prom Dresses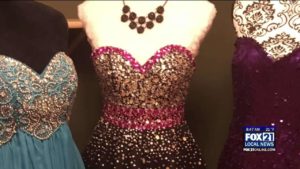 DULUTH, Minn. – Finding the perfect prom dress can be a fun experience, but it can also put a strain on the pocketbook.
One Northland non-profit is hoping to change that for high school girls.
Ashleigh Arntson is the co-founder of If the Dress Fits.
The organization allows girls and their families to donate current, previously worn or brand new gowns and matches them with Northland girls who would not otherwise be able to afford a dress or attend their prom.
Tonight, February 10, they will be holding their annual fundraiser at the Buffalo House Junction in Esko from 9:00 p.m. – 12:00 a.m.
This fundraiser will be a 21+ event.
The current fundraising goal is to collect 200 dresses and generate monetary donations to provide dry cleaning services and dress alterations for those who need them.
Advance ticket price is $10 or $15 at the door.
Donate a current style prom dress and receive $5.00 off admission.
Donated dresses will be collected at the door, or at the following advance ticket locations: Bella Rose Bridal, 1709 Mall Drive, Duluth or Arrowhead Builders Association, 5255 Maple Grove Rd. Hermantown.
Those who wish to donate their gently used or new prom dresses can drop them off at the locations named above or contact Ashleigh at ashkarntson@gmail.com or send a message through our Facebook page at https://www.facebook.com/ifthedressfits101.