Free Beekeeping 101 Workshops
The workshops will be held at Barstow Hall on the UWS Campus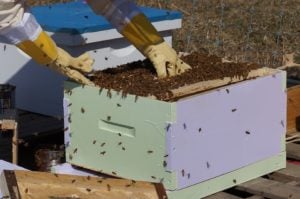 UPDATE: Due to the overwhelming interest, all sessions are at capacity. Plans are in the works to add more sessions for the spring!
SUPERIOR, Wis. – The University of Wisconsin-Superior is hosting a free Beekeeping 101 workshop this weekend.
Two workshops are planned for this weekend, one on Saturday February 18 from 9 a.m. – noon and another on Sunday Feb. 19 from 1 – 4 p.m. at Barstow Hall Room 108. Each session will have a 30 participant limit with a waiting list.
The workshops are designed for those with little to no experience beekeeping and will provide the general knowledge for all beginners to succeed.
Topics covered will include honey bee biology, basic equipment, tools, protective gear, cost, purchasing bees and equipment, legal issues, urban beekeeping, installing your first bees, basic hive inspection, colony maintenance, and challenges to bee health. All participants will get the chance to handle and learn to use beekeeping equipment and assemble a beehive.
For those with beekeeping knowledge, there will be an advanced workshop this coming spring.
For more information and to register head over to UW-Superior's Website.