Technology Training with Lowrance at Duluth Boat Show
Marine Electronics University Available for Public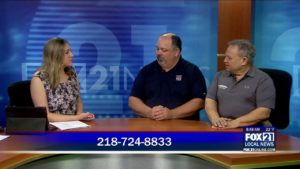 DULUTH, Minn. – The 51st Annual Duluth Boat, Sports, Travel and RV Show is underway and technology training is being offered there this year.
Lowrance is bringing their Marine Electronics University to the Duluth Sport Show.
They're leading a hands–on workshop using Lowrance HDS GEN3 Touch units.
Sessions will have instruction on everything from routine setup and product use, to news about leading technologies such as CHIRP sonar and Insight Genesis Mapping.
Classes will be held in Gooseberry RM 1,  Friday February 17th at noon and 3:00 p.m., Saturday February 18th at noon and 3:00 p.m. and Sunday February 19th at noon.
To reserve your spot call Marine General at 218-724-8833.
Registration at the show will be at Marine Generals booth on a space available basis only.
Class fee: $25 per person includes class admission and once you complete the class you will receive a $25.00 gift card redeemable at Marine General courtesy of Marine General & Lowrance.
The $25.00 fee, does not include show admission.