Damage Days Hosts Snowboarders at Spirit Mountain
Party in the Pipe & After Hours Rope Tow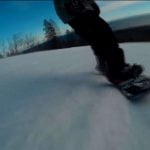 DULUTH, Minn. – Damage Days is taking place at Spirit Mountain once again.
The annual snowboarding event is being held this weekend.
Tonight, February 17th they're holding the Party in the Pipe from 6-8 p.m.
On Saturday, February 18th Damage Days is featuring an after hours rope tow session from 9:30 p.m. – midnight.
Additionally, their will be product giveaways, music, food and drink specials in the Moosehead Bar.
Those interested in the after hours rope tow need to sign a Release of Liability waiver for this session and those 17 and under require parent signature. A day pass, season pass, or $15 late-night pass is also required.
For more information head to spiritmt.com or damageboardshop.com.