Lieutenant Governor Visits Duluth to Celebrate Local Businesses
Highlights Many Different Local Businesses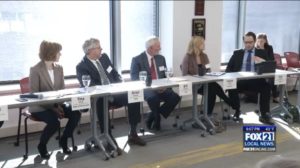 DULUTH, Minn.-Lt. Gov. Tina Smith visited Duluth today highlighting Minnesota's innovative economy.
The event followed the recent launch of the Innovative Minnesota Campaign. It's meant to celebrate emerging discoveries in technology throughout the state.
"Innovation is embedded in our Minnesota identity," she said. "Our state annually ranks among the top five in new patents and is home to many leading technology businesses.  Minnesota's Arrowhead region is helping lead the way with great businesses."
Among the local businesses singled out in her visit were GeoCom, Tryon Media, LHB Engineering, and Clearwater Composites.
She said educating the next generation's workforce on technology is vital to the state. There's expected workforce shortage of more than 100,000 workers by 2020.