Northland Beer Lovers to fill Brewer's Row
Brewer's Row Poker Pub Crawl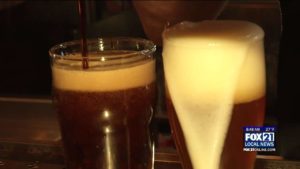 DULUTH, Minn. – This weekend the 1st Annual Brewer's Row Poker Pub Crawl is taking place.
Brewer's Row recognizes craft beer establishments along Superior St. in downtown Duluth.
The crawl begins at 6:30 p.m. at The Blind Pig where participants will receive a glass to bring to each bar.
Then, participants will drink one beer from each location, starting with The Blind Pig, and receive one playing card at each location.
The group will end at The Blind Pig and the participant with the best poker hand will win a $50 gift certificate from each location, which is a $350 value.
To get tickets head to The Blind Pig Facebook page, or eventbrite.com.
Participating Brewer's Row locations:
The Blind Pig Gastro Pub & Ale House
132 E. Superior St. Duluth, MN
Fitger's Brewhouse/ The Barrel Room (Get card from Barrel Room Bar)
600 E. Superior St. Duluth, MN
Carmody Irish Pub & Brewing
308 E Superior St, Duluth, MN
Sir Benedict's Tavern on the Lake
805 E Superior St, Duluth, MN
Blacklist Artisan Ale's
120 E Superior St, Duluth, MN
7West Taphouse
7 W Superior St. Duluth, MN
Dubh Linn Irish Brew Pub
109 W Superior St, Duluth, MN