Native American History on Display in Superior
New Exhibit Opens at Douglas County Historical Society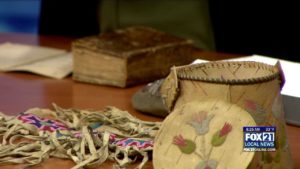 SUPERIOR, Wis. – A new exhibit is opening up at the Douglas County Historical Society highlighting Native American culture in our area.
The planning for this exhibit began when a Dugout Canoe was discovered in storage in 2015.
The canoe was actually donated in 1939 and was found to be authentic Dakota.
On Saturday, February 25th at 11 a.m. the Douglas County Historical Society will be hosting a special event for the opening of this exhibit.
The exhibit, titled "The First people of Douglas County," will feature never before seen artifacts and photographs from the DCHS collection while also revealing the age of the Dugout Canoe.
The event is free to the public with light snacks and beverages.
It was all made possible by the Duluth Superior Community Foundation's Anishinaabe grant.
DCHS Members get an advanced look at the exhibit on February 24th at 7 p.m.
The museum is located at 1101 John Ave Superior, WI 54880.
For more information head to douglashistory.org.