Richard Giles Found in Prescott, Wis.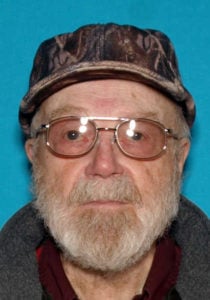 UPDATE: Richard Giles was located safe in Prescott, Wisconsin on 2/24
The Wadena County Sheriff's Office is looking for assistance in locating Richard Griffith Giles, 89, of Verndale, Minnesota.
Richard was last seen at the Super 8 in Grand Rapids, Minn. Thursday morning, Feb. 23, around 9:30 a.m., after spending the night after getting lost.
He is described as 5'09", 165 pounds with hazel eyes and gray, balding hair and a gray mustache and beard.

Richard is known to be driving a 2012 Burgundy GMC Terrain, with MN license plate 276GYZ.
Richard was reported to have purchased gas around 8:30 a.m. Friday morning around 8:30 at Captain Dan's Crow's Nest Cenex in Mora, Minn.
Because of his age and weather, authorities are concerned for his welfare. He may be lost so authorities are asking the public to keep an eye out on roadsides, in ditches, and other areas for him and/or his vehicle.
If you encounter him, do not give him directions and send him on his way, contact law enforcement to assist.
If you think you may have seen Richard or have information regarding his whereabouts contact the Wadena County Sheriff's Office 218-631-7600 or call 911.