Fat Tire Bike Festival Back for Second Year
Coffee Conversation: Frosted Fatty Fat Bike Festival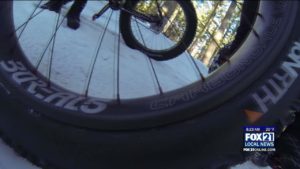 DULUTH, Minn. – This weekend winter sport enthusiasts will be filling the hills at Spirit Mountain.
It's all for the 2nd Annual Frosted Fatty Fat Bike Festival.
Competitors from around the country will be coming into town on March 4 and 5 for two days of fat bike races, events, silent auction and more with over 300 participants expected.
New for 2017, features a cross country race on Saturday morning as well as a dual head to head slalom race for skiers, snowboarders and bikers in the evening.
With over $5000 in cash and prizes up for grabs, this event will be exciting for racers and spectators alike.
The Frosted Fatty provides fund raising for the All Weather Trail (AWT) at Spirit Mountain.
In partnership with COGGS and The City of Duluth, the AWT at Spirit Mountain would provide Duluth with a biking trail that could be used in all weather events.
For more information, head to www.spiritmt.com.