Runners Get Inspiration from Olympic Athlete
Gearing Up for Grandma's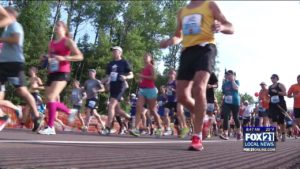 DULUTH, Minn. – Grandma's Marathon weekend is just a few months away and training season is in full–swing.
To help runners along in their training journey, Essentia Health and Grandma's Marathon are hosting the annual Gearing up for Grandma's pre–race seminar on Saturday, March 4 with keynote speaker, Jeff Galloway.
This is a free event from 10 a.m. to 12 p.m. at Essentia Health's Duluth Clinic First Street Building and is a valuable training resource for both first–time and veteran runners.
For the first time ever, Grandma's Marathon will offer a free group run 5K with Jeff Galloway prior to the seminar.
The group run begins promptly at 8:30 a.m. and starts and finishes in the lobby of the Essentia Health Duluth Clinic First Street Building.
All abilities are welcome and encouraged to attend.
For the second year, Grandma's Marathon will be live–streaming the event on the Grandma's Marathon Facebook page for those unable to attend in person.
The live event will give participants worldwide access to seminar information. Click here to view the seminar on Facebook.
The seminar's featured speaker is Olympian, running coach and inventor of the Run Walk Run training method, Jeff Galloway.
Jeff will be giving a presentation and answering runner questions.
Other Gearing Up for Grandma's presenters include:
Ben Nelson, MD – Grandma's Marathon Medical Director and Essentia Health Orthopedic/Sports Medicine Physician. Dr. Nelson will provide information on injury prevention and offer tips for staying safe and healthy on race day.
Stephanie Fennessey, MS, RD, LD – Essentia Health Registered Dietitian. Stephanie will present proper training nutrition tips for fueling up for race day.
Jim and Mary Stukel – Owners of Tortoise and Hare Footwear. Jim and Mary will speak about the latest in running gear and the importance of selecting the appropriate shoes.
Prior to the seminar, a light breakfast will be provided for all seminar and group run attendees.
Following the individual presentations, a question and answer session will be held with all of the presenters.
A prize drawing will conclude the event, which is presented by Essentia Health and Grandma's Marathon.
Grandma's Marathon Weekend, June 15–17, is presented by Toyota and Members Cooperative Credit Union.
For more information or to register for weekend events, please visit grandmasmarathon.com or call (218) 727–0947.