IRRRB to Privatize Skiing Operations
Much of Facility Already Privately Run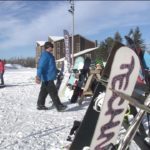 ST. PAUL, Minn.-A private management firm will take over skiing operations at Giants Ridge.
The Iron Range Resources and Rehabilitation Board approved that plan on a 5-4 vote today in St. Paul.
Much of the Biwabik resort is already privatized, including the golf course.
IRRRB Commissioner Mark Phillips believes some employees will now take an early retirement option.
Giants Ridge will still be owned by the IRRRB, but it's hoped a private management firm will create more jobs at the facility, along with providing an increase in revenue.