Local Business Remains Family-Owned for Decades
Northland Uncovered: Dee Independent Launders and Cleaners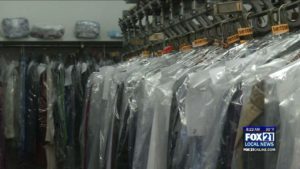 DULUTH, Minn. – Family businesses fill the Northland and inside the doors of one Duluth business everyone is family.
Driving down Superior Street it's hard to miss the vintage sign marking Dee Independent Launders and Cleaners.
The business has been owned by this family for 37 years and the previous owner had the business for 40 years.
"We have a lot of customers whose parents were customers and have retired and now their kids come in," said Manager Shari Swenson.
Swenson has been taking care of customers for years.
Her father bought the business back in 1981.
"He had been laid off from the steel plant, had some real estate, came home and said to my mom "I bought a dry cleaner." I mean we didn't know the first thing about dry cleaning," Swenson explained.
After nearly 40 years, it's a different story.
"Now, we can do it with our eyes closed and maybe even backwards," said Swenson.
However, it wasn't always easy to get the clothes out of the building successfully.
"We had cleaned a customer's sweater and it was ruined and it was a handmade sweater. My mom sat for night after night and reknit a sweater for this customer," said Swenson.
The business started with a little trial and error.
"You kind of have to be a jack of all trades and know a little bit about the whole business," Swenson explained.
"Jack of all trades" is just how 17 year employee Missy Smith defines her job title.
"You're always going, going, going. There's always something to do, there's never a dull moment upstairs," Smith said.
The upstairs of the building is where the garments are cleaned, steamed, ironed and pressed.
Downstairs is the interaction with customers.
"You kind of become friends," Swenson said.
"I learn about them, they learn about me. I have grandkids so they're always, "let me see a new picture" that kind of stuff," Smith said.
Friendships have been built over decades in a business that started as a fluke.
"We all feel like a family," Smith said.
Dee Independent Launders and Cleaners is located at 1029 E. Superior St.
They are open fro 7 a.m. to 8 p.m. Monday through Friday, 8 a.m. to 6 p.m. on Saturdays, and 9 a.m. to 5 p.m. on Sundays.
For more information head to their Facebook Page.