Renegade Theater Presenting "Hand to God"
Performance Taking Place at Teatro Zuccone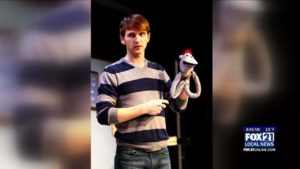 DULUTH, Minn. – Renegade Theater Company is currently presenting their latest production at Teatro Zuccone.
In "Hand to God" mild-mannered Jason unhappily has to participate in a Jesus-themed puppet show at his church and he soon discovers that his puppet, Tyrone, has a mind of its own.
"Hand to God" is running Thursday, Friday and Saturday nights through March 11.
All performances are at 8 p.m.
Ticketers are $20 for adults, $17 for students and seniors, and $10 for rush tickets at the box office every Thursday for students, seniors and artists.
To purchase tickets head to www.renegadetheatercompany.org
Teatro Zuccone is located at 222 E Superior St., Duluth, MN 55802.