Crafting Cream Puffs with The Exchange
Cooking Connection: The Exchange Deli, Bakery & Catering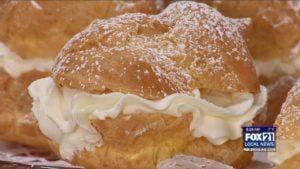 DULUTH, Minn. – For this week's Cooking Connection Lisa Quarles, the pastry chef at The Exchange Bakery, showed the FOX 21 crew the ropes in the kitchen.
Quarles showed FOX 21's William Seay how to make cream puffs.
Quarles says these are perfect sweets to impress your friends with at parties.
Cream Puffs:
Add 1 cup of water to pan on stove
Add 1/2 cup of butter
Boil them together
Add 1 cup of flour all at once to the mixture on low heat
Add 1/8 tsp. of salt
Stir
Pour in mixer
Add 4 eggs while mixing
Mix vigorously until dough is stringy
Once ready bake dough for 25-35 minutes at 325 degrees
After taking them out of the oven, cut in half and add whip cream
Top with powdered sugar
The Exchange Bakery is located at 301 West 1st Street, Duluth, MN 55802.
Their phone number is 218-727-8836.
Find them online at www.theexchangecateringanddeli.com.