Ski Club to Host Celebration of the Sport and Season
Duluth Cross Country Ski Club Holds "Tour Duluth"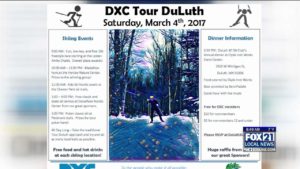 DULUTH, Minn. – This weekend is the 12th running of DXC's Tour Duluth, a celebration of the ski trails in Duluth and all the people who make it all happen.
Duluth Cross Country Ski Club members tell us the club had a very successful year in 2016.
The club is hoping to celebrate that success with this year's Tour Duluth on Saturday, March 4.
There will be ski events throughout the day, a medallion hunt, ski demos and a dinner.
Skiing Events Schedule
9 a.m.: Fun, low key, and free 10km freestyle race starting at the Lester-Amity Chalet
10 a.m. – 12 p.m.: Medallion hunt at the Hartley Nature Center
11 a.m.: Kids Ski Nordic event at the Chester Park ski trails
1 p.m. – 4 p.m.: Free classic & skate ski demos at Snowflake Nordic Center
2 p.m.: Poker classic ski at Piedmont trails
All Day: Take the traditional Tour Duluth approach: try skiing as many local trails as possible. There are free food and hot drinks at each skiing location.
Dinner Information
5:30 p.m.: Clyde Iron Works Event Center, 2920 W. Michigan St., Food catered by Clyde Iron Works, Beer provided by Bent Paddle, Live music, and Raffle of goods from our sponsors.
Dinner is FREE for DXC members, $10.00 for non-members and $5.00 for non-members 12 years old and under.
To register head to duluthxc.com.