DNR Gives Western Wisconsin Sand Plant Preliminary OK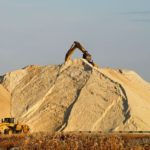 MADISON, Wis. (AP) – The state Department of Natural Resources has given a timber company subsidiary preliminary approval for a sand plant in western Wisconsin that would destroy more than 16 acres of wetlands.
The Milwaukee Journal Sentinel reports the DNR notified Meteor Timber of the approval on Wednesday. The agency has set an April 18 hearing on the project in Tomah.
Meteor wants to build a sand drying plant in Monroe County and a sand mine 14 miles away in neighboring Jackson County. According to Meteor, the facilities would be valued at $65 million and create 100 jobs.
The project would eliminate 16.6 acres of wetlands. Meteor has announced plans for conservation easements for 643 acres on the site.
The project still needs approval from the U.S. Army Corps of Engineers.